Windows 10 was first released in July 2015. It comes in many versions; Home, Pro, Pro For Workstations, Education, and Enterprise.
It also comes in many builds – The first build released for home users using Home or Pro was Windows 10 1507 which was followed quickly by the 1511 Feature Update. The next Feature Updates; 1607 (Anniversary Update) and 1703 (Creators Update) were released 2016 and 2017.
In 2017 Microsoft moved to a twice annual release model for new Feature Updates. This means another version, 1709, was also released in 2017.
Versions 1507 to 1709 all have one thing in common; they have reached their "end of service". Your Windows 10 device should have automatically downloaded the latest Feature Update before the end of service date was reached – but sometimes things don't go to plan.
When your device is "out of service" this means you no longer receive security patches for your operating system. This leaves your system vulnerable to attack by malware or hackers.
This means that currently there are 5 versions of Windows 10 that have joined Vista, Office 2007, and Windows XP, in the unsupported software graveyard.
Windows 7 is set to join them in January 2020 – and another build of Windows 10 (1803) is set to join them November 2019.
Windows 10 (1809) end of service is May 2019, and Windows 10 (1903) – The latest version – end of service is December 2020.
If you are not running the latest version (1903), then you should update as soon as possible to ensure you device stays up-to-date and secure.
To check your Windows Version hold the Windows Key and press the letter R. In the Run Dialog Box type in winver and press enter. A window will appear showing your current version of Windows 10.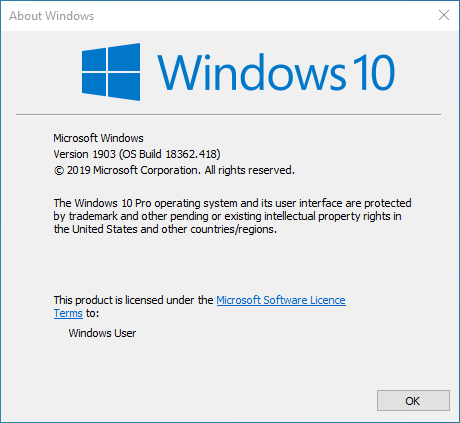 Feature Updates can be installed via Windows Updates. This can be accessed by holding the Windows Key and pressing the letter R. In the Run Dialog Box type in control update and press enter. Click check for updates and the new version should download automatically. If it doesn't, you may have to manually update using the upgrade tool provided by Microsoft
The upgrade tool can be download from here: https://microsoft.com/en-au/software-download/windows10
When the tool is run, it will check to see if your device is compatible with latest Windows 10 and will then install the software. This may take a few hours.
If you require assistance downloading and installing the latest version Windows 10, feel free to contact us.